Christmas Hampers
The perfect gift idea
What a fantastic idea - a Christmas Hamper beautifully wrapped and filled with magical festive goodies and sweet treats to spoil your loved one this Christmas.
The luxurious hampers are the perfect gift idea and we have one to suit everyone from a chocolate lover to cheese and wine expert. Christmas Hampers are now available in store and range from prices £19.99 - £199.99. Whether you are sending your best wishes to loyal clients, hard working employees or simply treating friends and family, we have a Christmas hamper available to leave a lasting impression.
For Corporate gifting on large orders, please contact us on customerservices@degruchys.com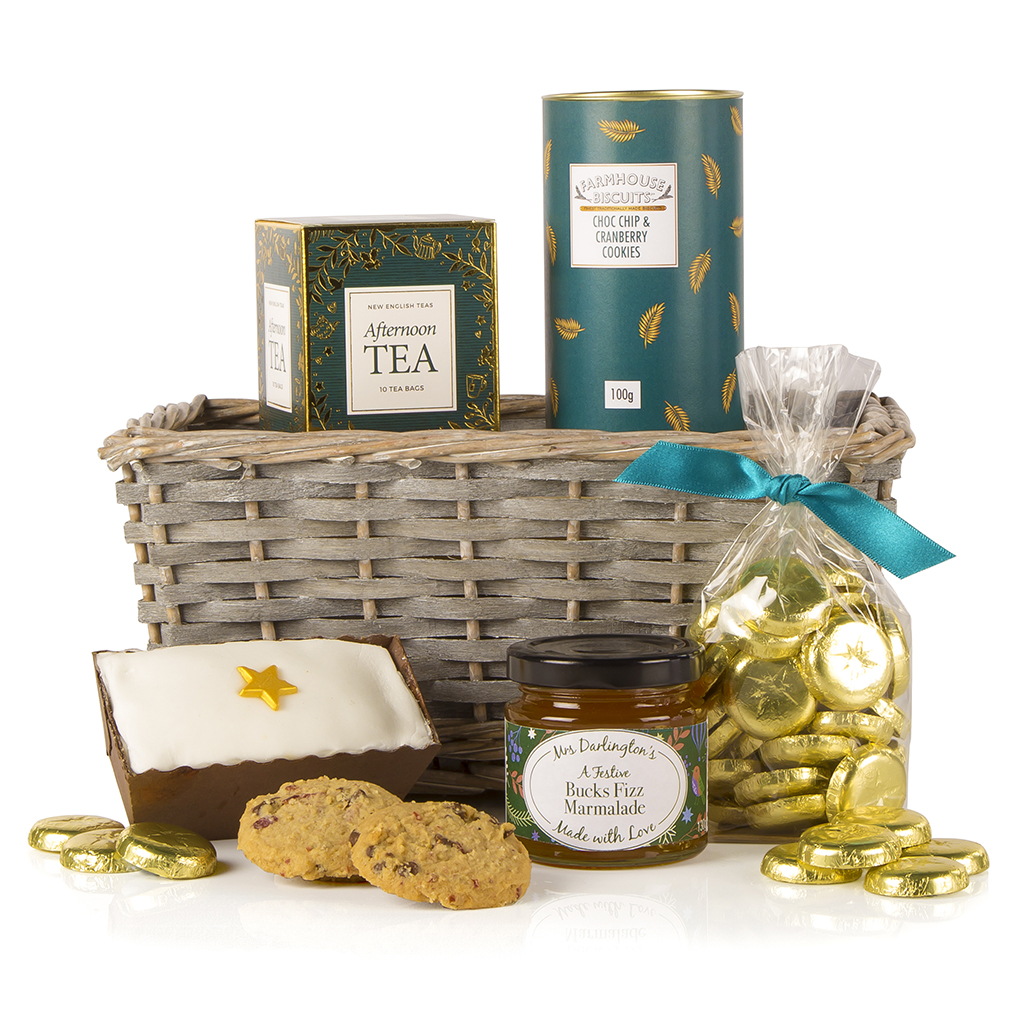 A delicious Bucks Fizz Marmalade, Chocolate Chip & Cranberry Biscuits all make this hamper live up to its name. Complete with a box of new English teabags.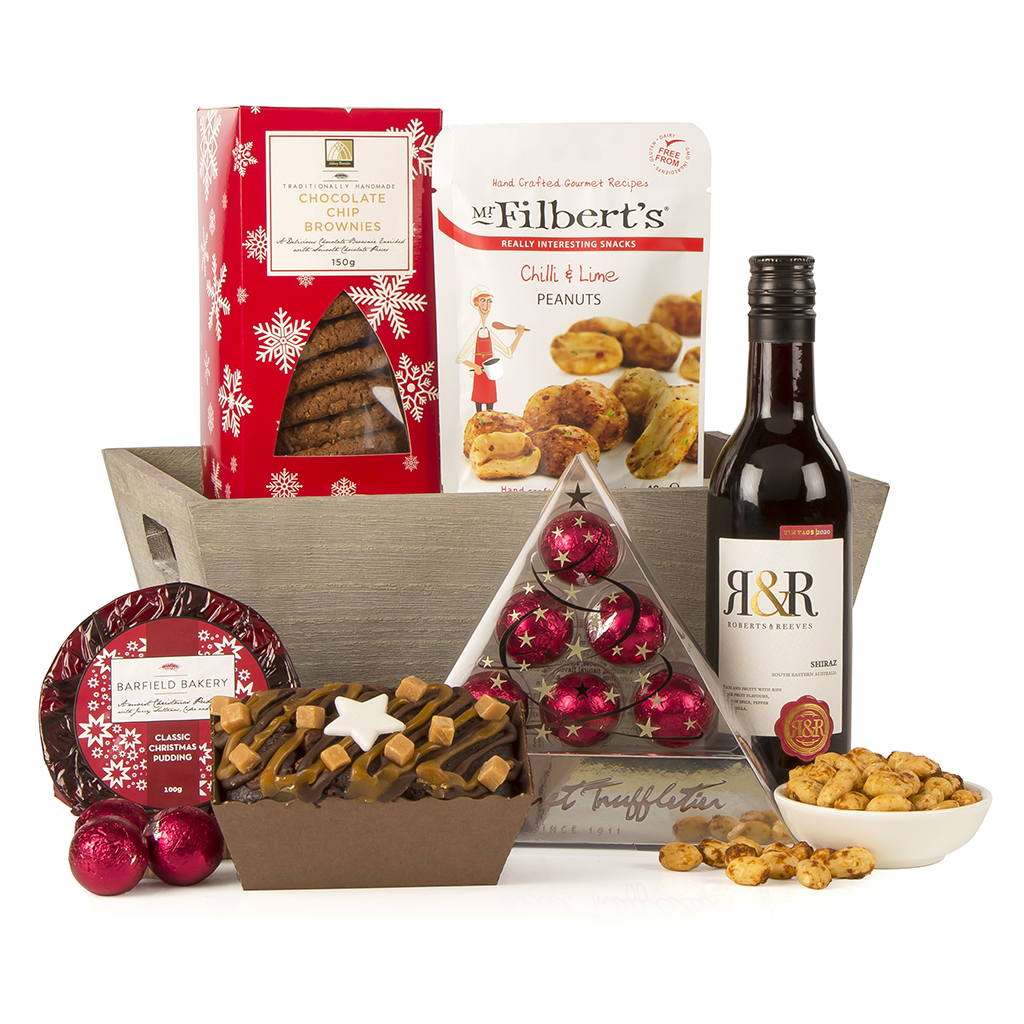 The perfect Christmas gift combining a traditional Christmas Pudding with a box of chocolate brownie biscuits and treats. A great value gift that's certain to be enjoyed.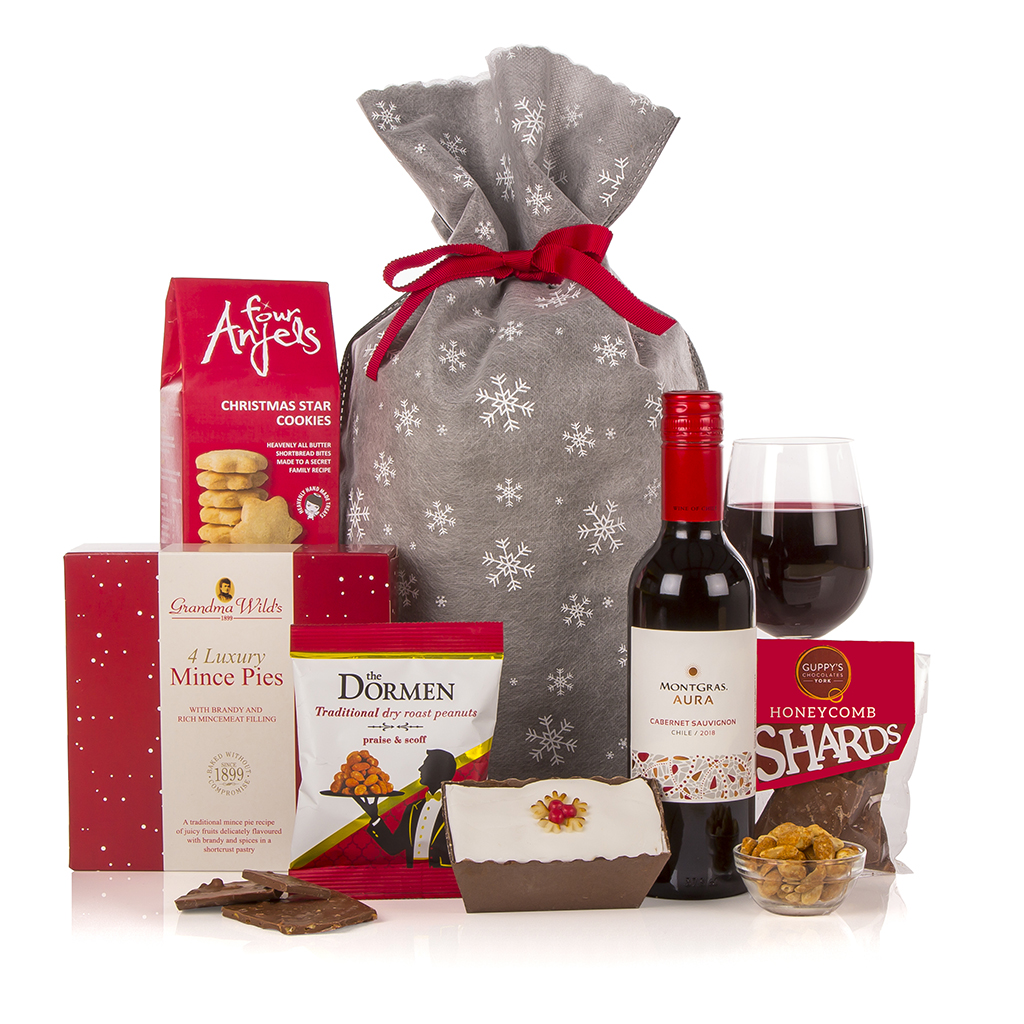 Stylishly curated into a grey decorative festive sack, perfect for popping under the tree. A half bottle of MontGras Cabernet Sauvignon paired with Shortbread starts is the perfect combo.
A great gift idea for the man in your life. He'll love your thoughtfulness and will enjoy the tasty treats. A mix of Wold Top beers are accompanied by a feast of sweet and savoury treats that are sure to bring a smile to his face, including the Olly's Salted Original Pretzel Thins and GNAW Fudge Crunch Milk Chocolate Bar!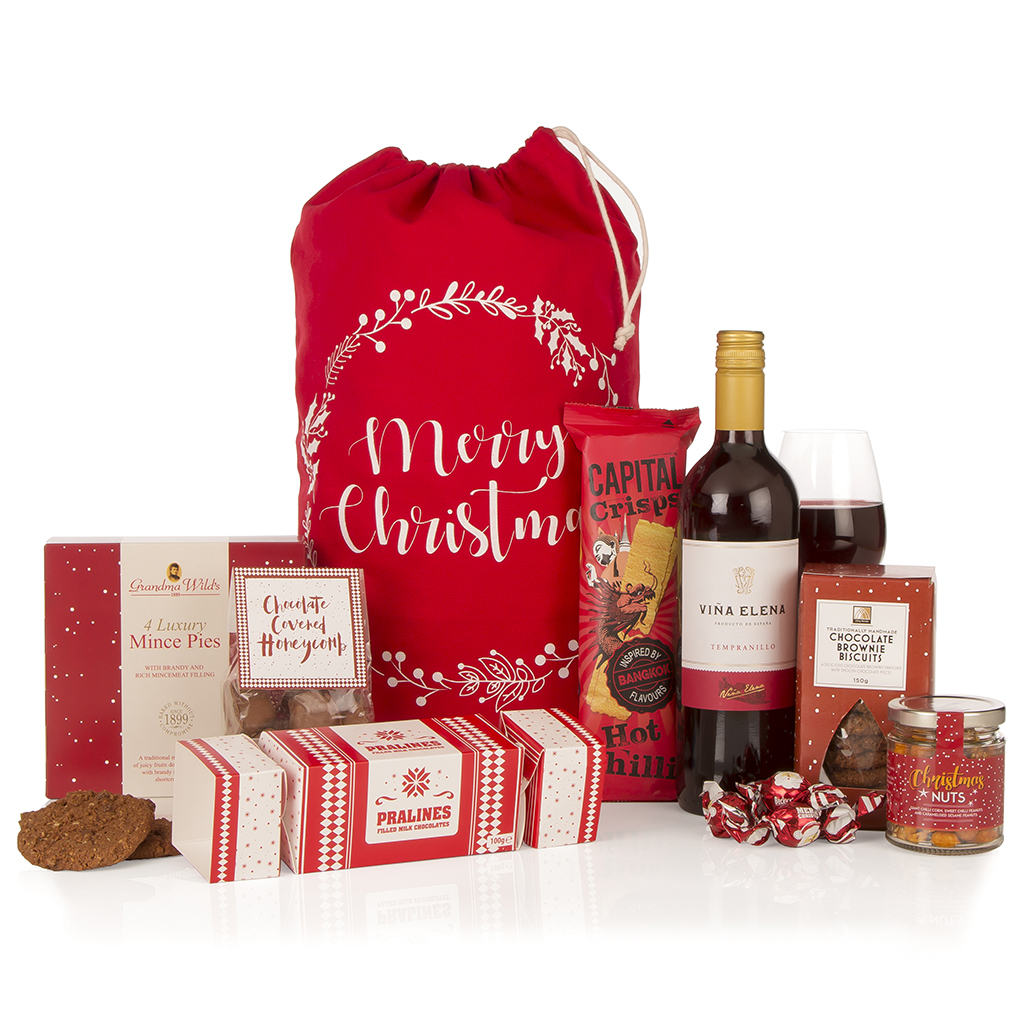 A fun and modern gift which is perfect for families, couples, friends and colleagues this Christmas. The festive red sack is filled with festive indulgences including a bottle of red wine, our festive favourite mince pies, chocolate covered honeycomb, Christmas nuts and more.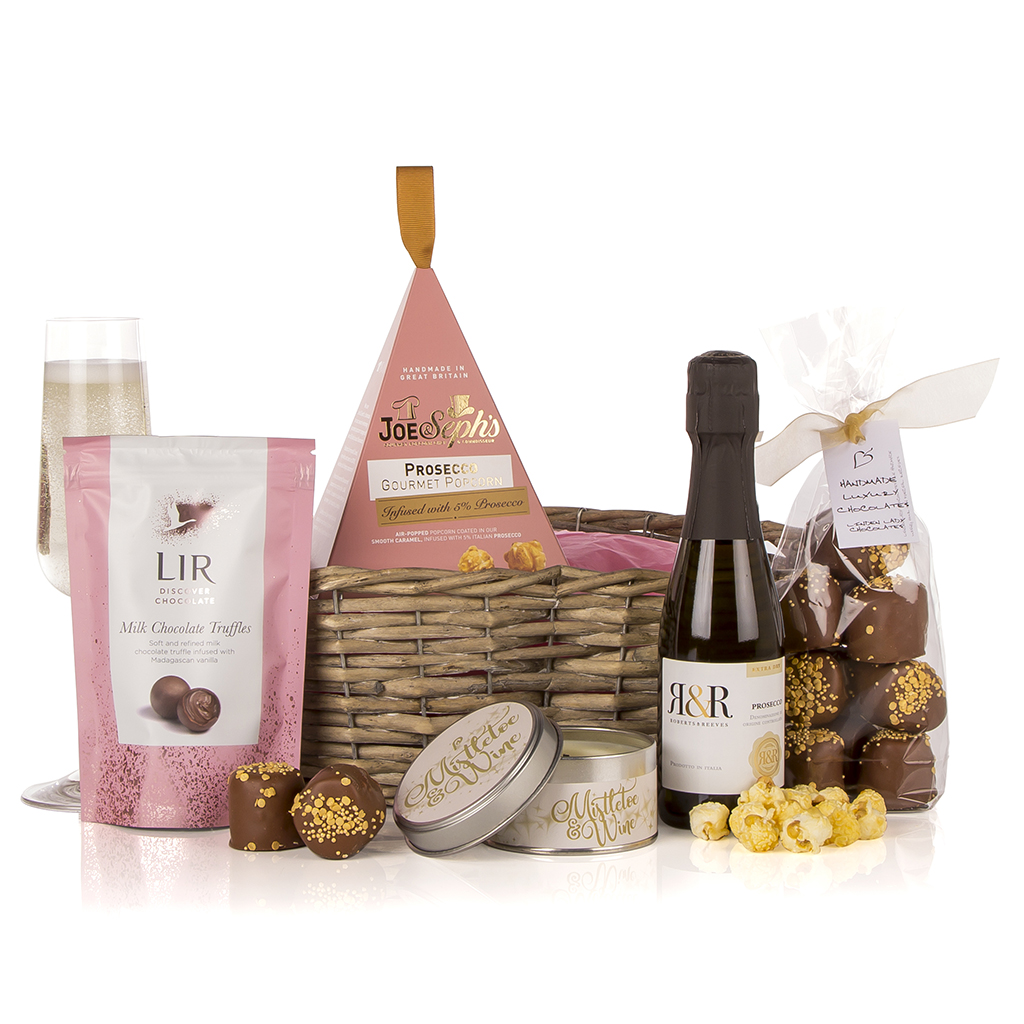 Make the ladies in your life smile with this delightful ladies hamper. With all the ingredients for a perfect girl's night in, such as prosseco popcorn and chocolate covered marshmallows, this is the ideal gift in which to pamper and indulge!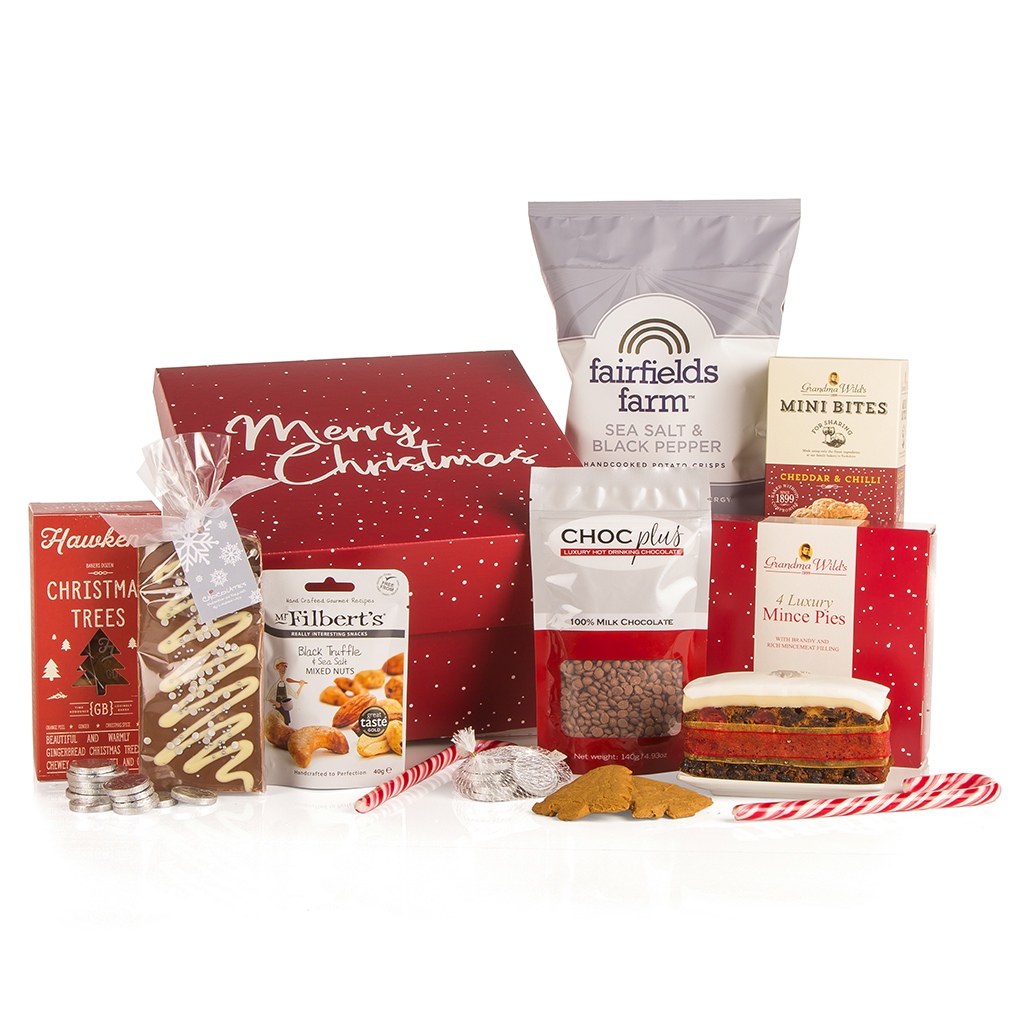 Presented in a stunning red festive gift box, Christmas in a Box really is what it says in the title! Jam packed full of delicious seasonal treats, we've included a variety of sweet and savoury delights such as the Grandma Wild's Luxury Mince Pies, Mr Filbert's Indulgent Black Truffle and Sea Salt Mixed Nuts.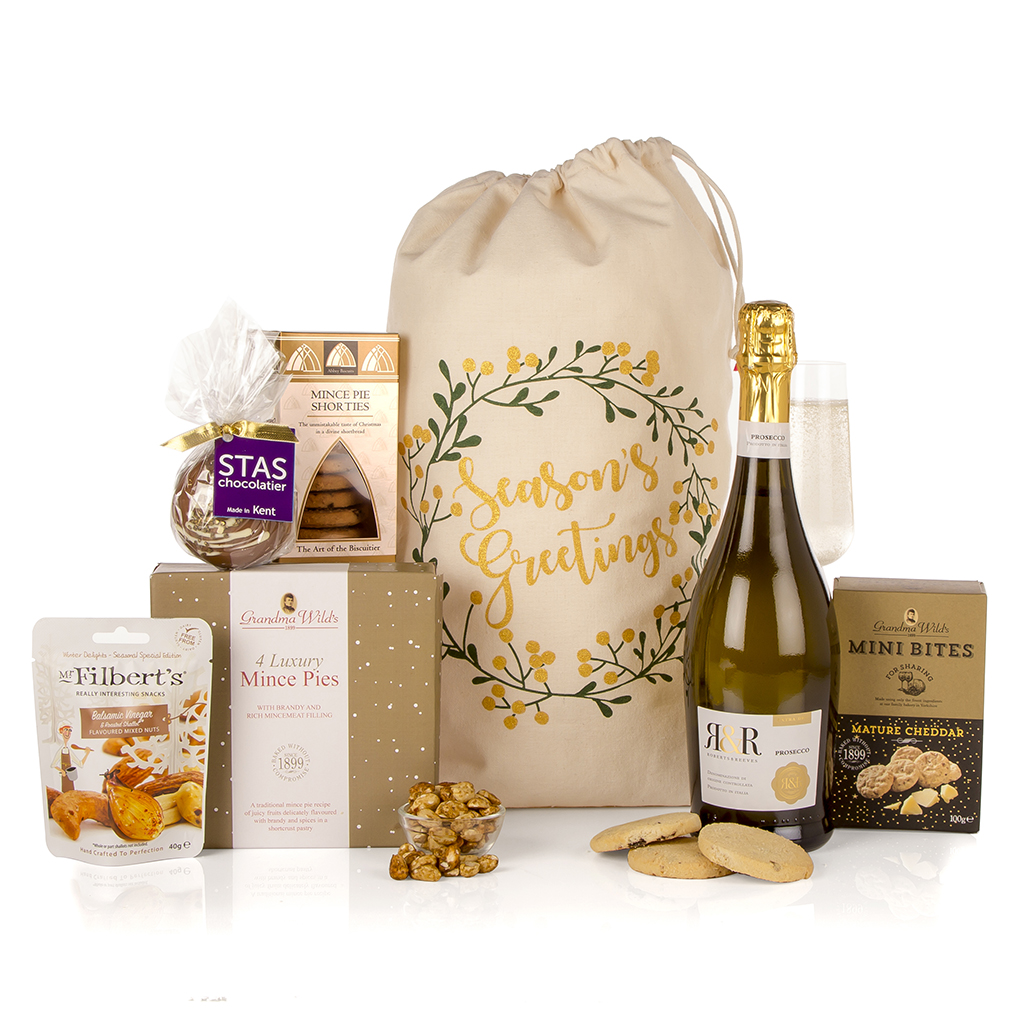 Our new Festive Fizz gift is carefully packed into a decorative printed 'Seasons Greetings' sack and filled with a variety of sweet and savoury seasonal treats to accompany the crisp bottle of Roberts and Reeves Prosecco. Including the Grandma Wild's Mature Cheddar Cheese Bites and Mince Pie Shortie Biscuits.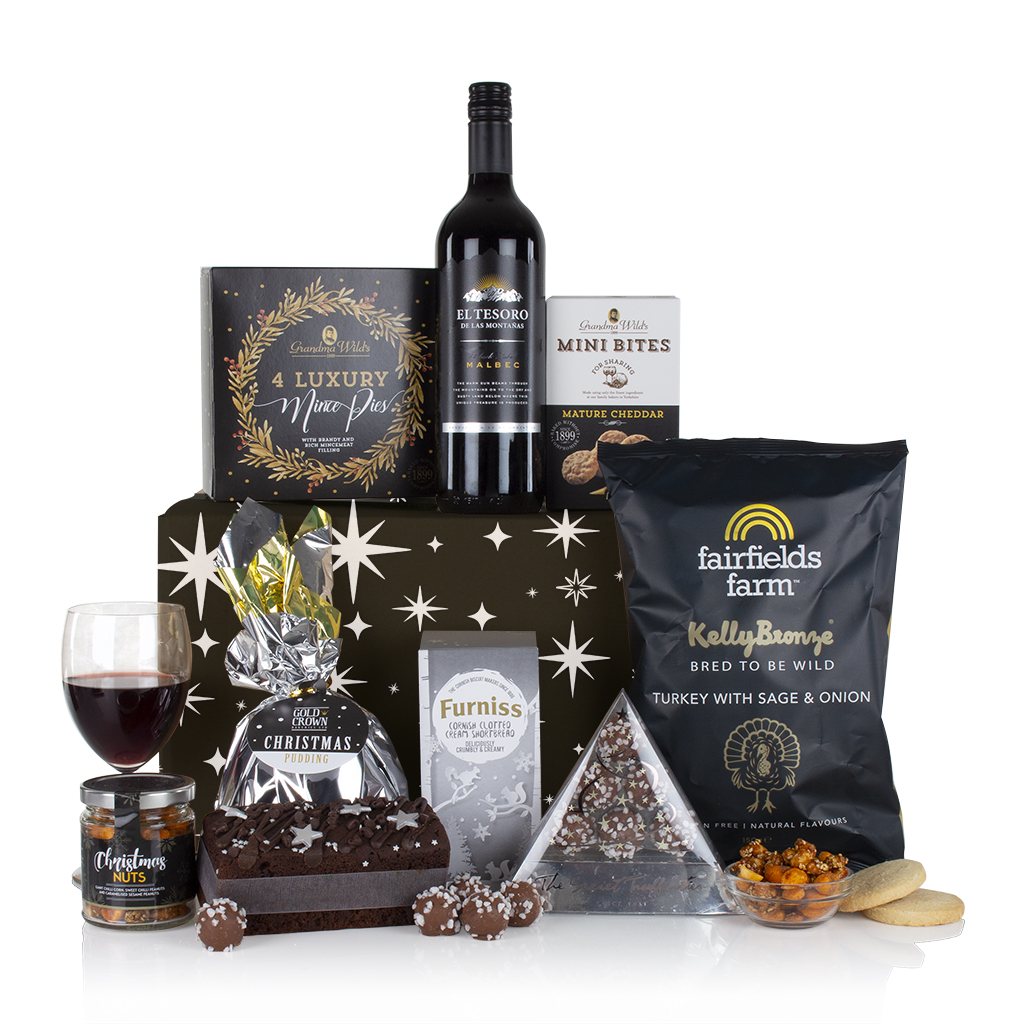 Carefully curated using only the finest and most luxurious products, the Stary Stary Night Carton is filled to the brim with sweet and savoury treats which promise to bring a little sparkle to Christmas.The festive array of treats includes a chocolate cake, nuts, truffles, crisps, Christmas pudding and the all-important red wine!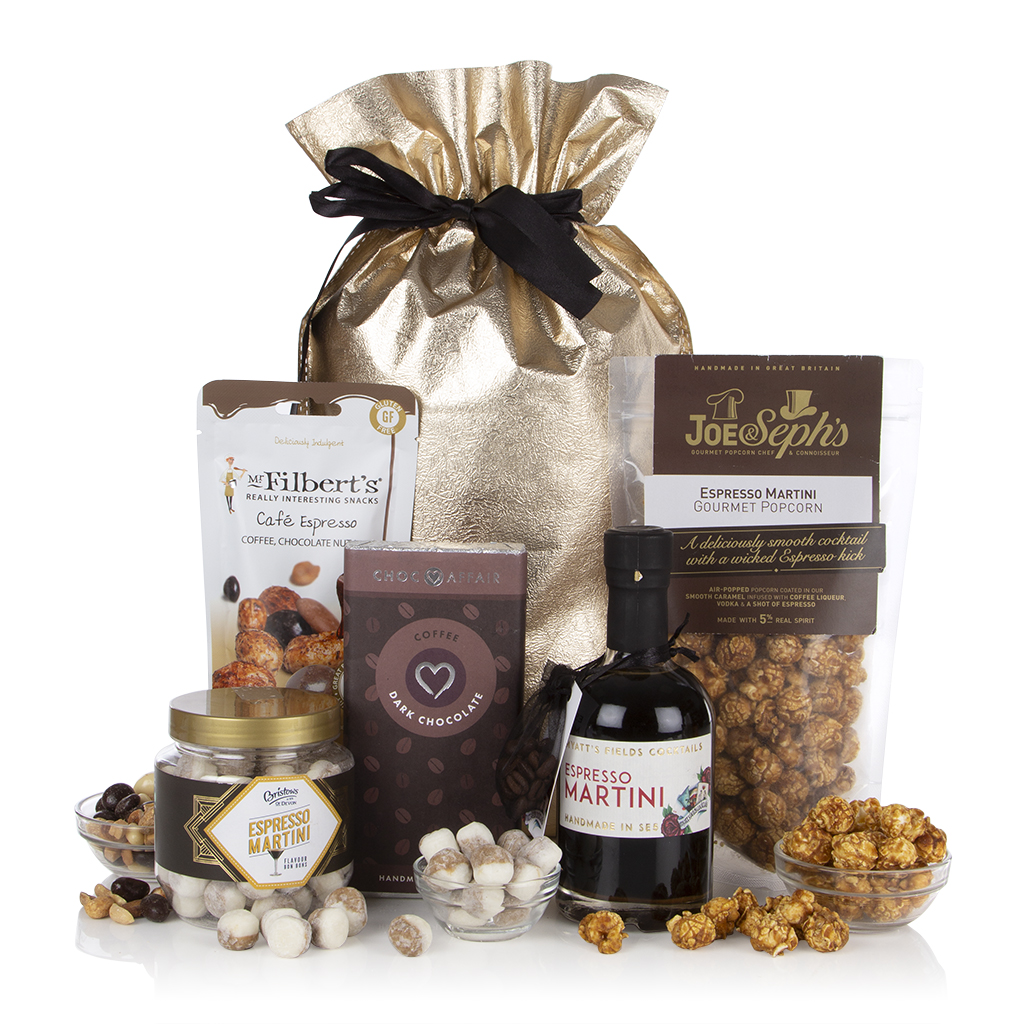 A brand new gift this year for all the coffee lovers, our Espresso Martini Gift bag is a fabulous gift idea for those who favour the cocktail. Packed full of flavoured treats to perfectly accompany the Myatt's Field Cocktails Espresso Martin you'll find everything you need to have a fabulous espresso themed evening!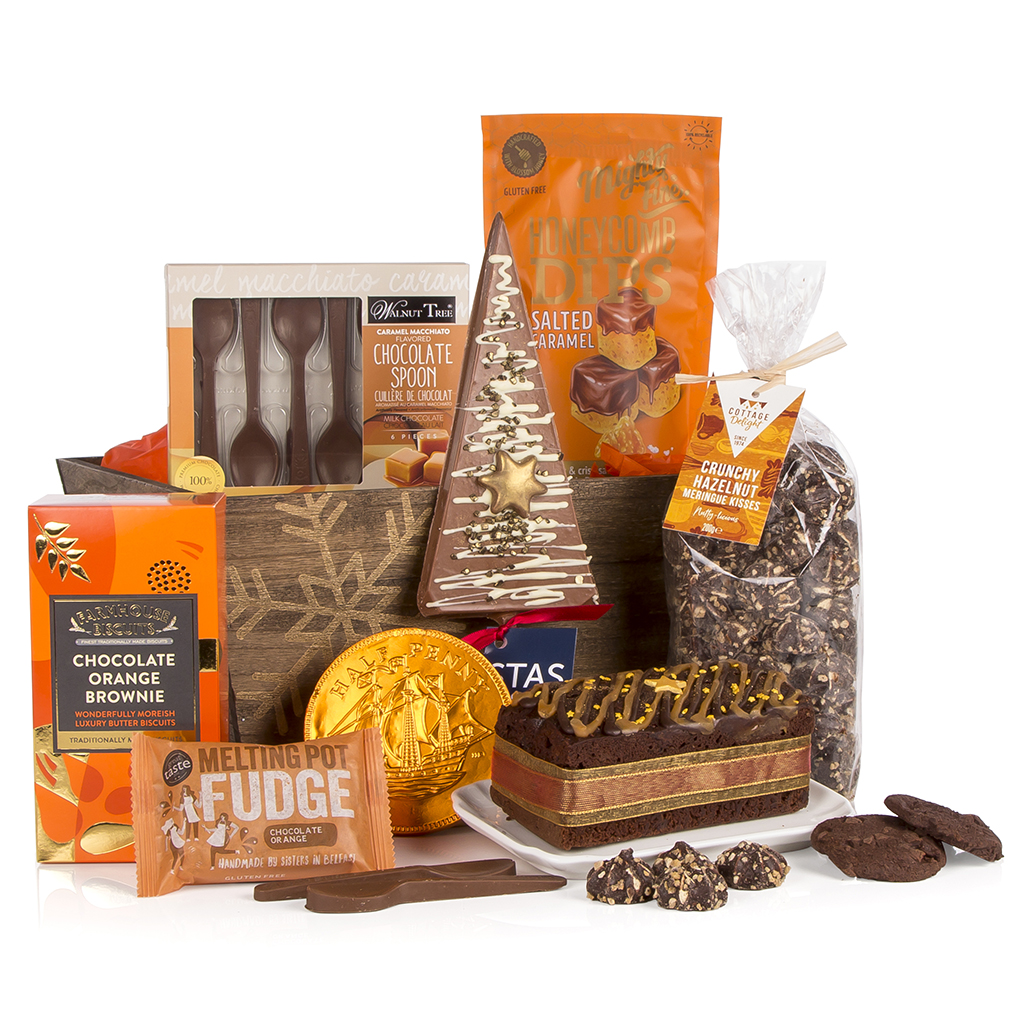 This is quite simply the only possible gift for the chocoholic in your life.
We take chocolate very seriously and extensive tasting has been carried out to make sure that this gift will satisfy all chocolate requirements!
The Starry Starry Night gift is filled to the brim with sweet and savoury treats which promise to bring a little sparkle to Christmas.The festive array of treats includes chocolate, nuts, crisps, shortbread, Christmas pudding and the all-important red wine! This beautiful Christmas hamper in its merry colour scheme is a fantastic hamper choice for couples, staff, or clients this Christmas.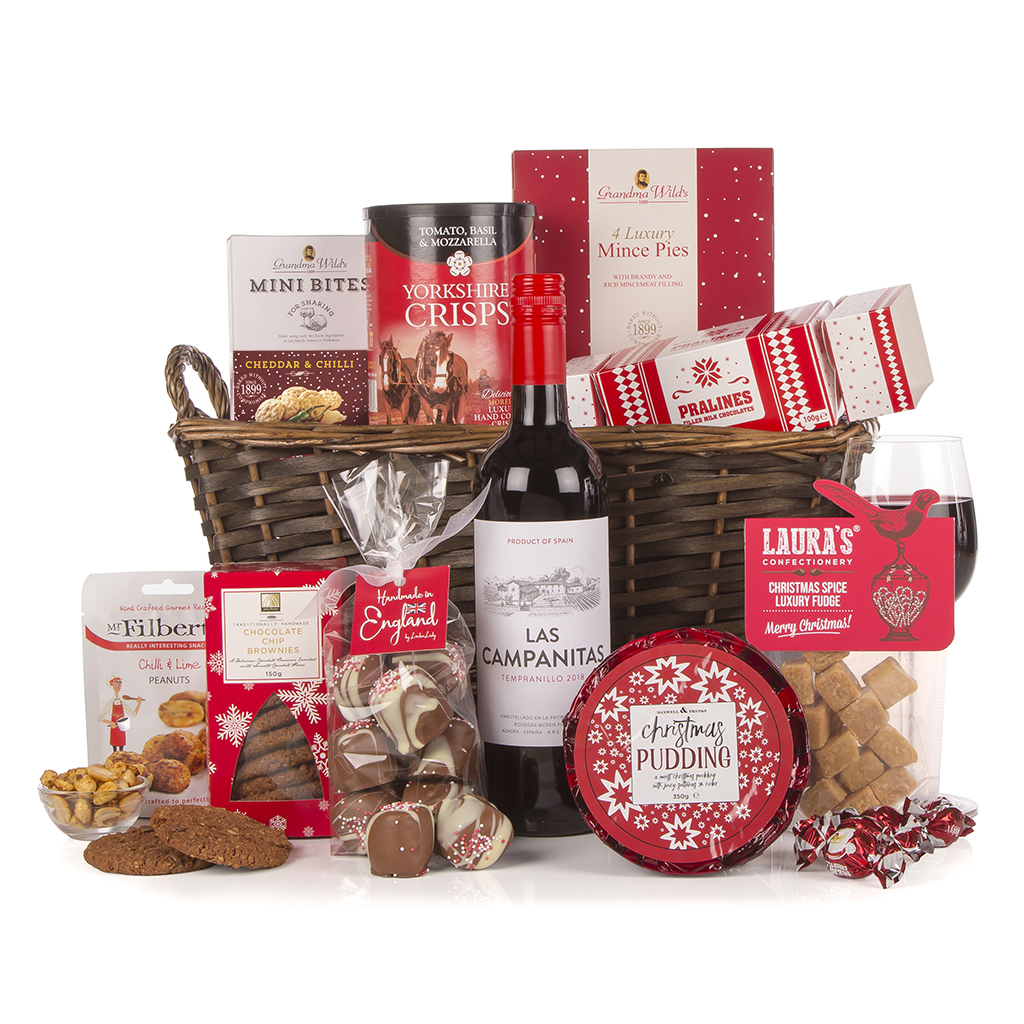 This festive hamper basket is full of tasty food and accompaniments such as the Grandma Wild's Mini Bites, Christmas Pudding, Chilli and Lime Peanuts and a fine bottle of Las Campanitas Tempranillo.
The Season's Greetings Basket Hamper is also available in a really convenient 100% recyclable festive carton.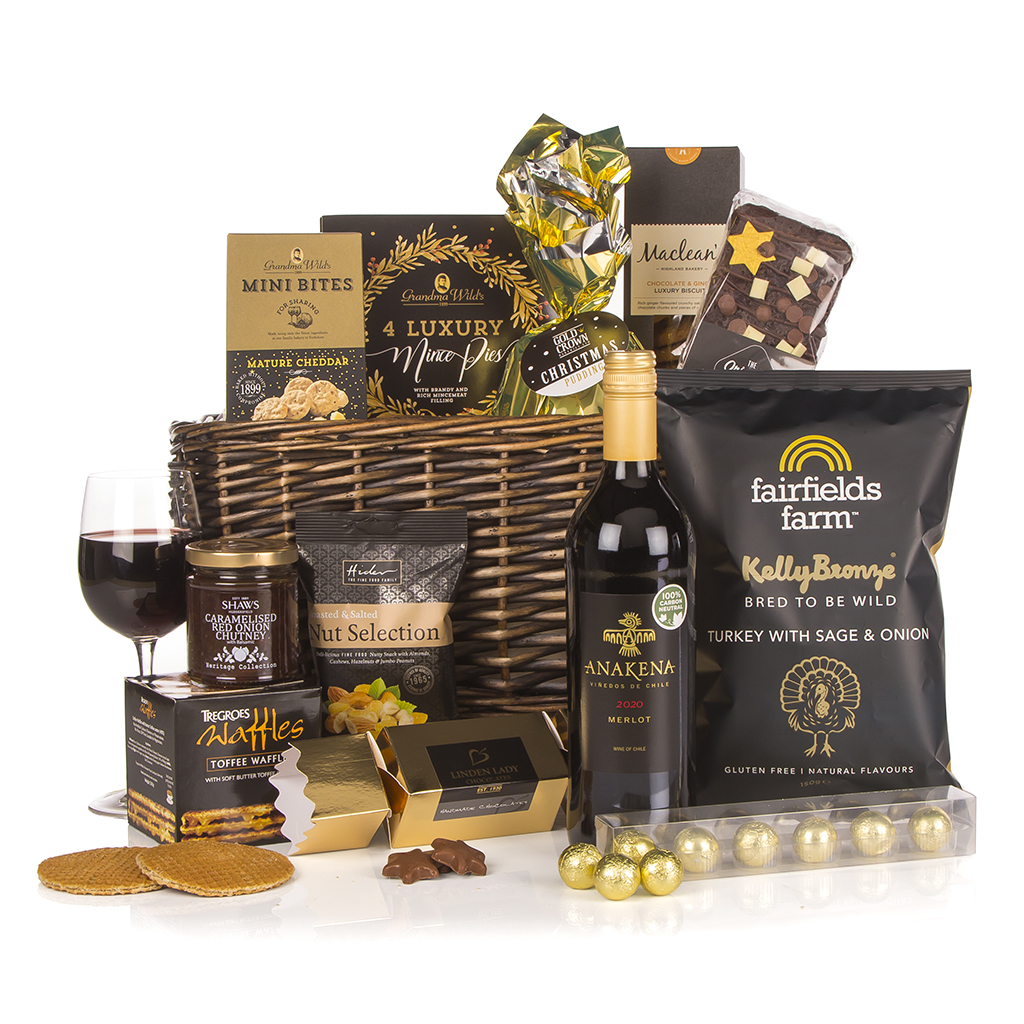 A cracking Christmas hamper filled with tasty seasonal products at a very reasonable price. Each one has been carefully selected so you can be sure everybody will find a favourite.
Choose between luxury mince pies, traditional Christmas pudding, crisps, chocolate and nuts. This cracking hamper is made complete with a bottle of Anakenda Vinedos De Chile Merlot. Simply the perfect hamper choice for any family get-together, party with friends or as a gift for a colleague or client.
The Christmas Cracker Basket Hamper is also available in a really convenient 100% recyclable festive carton.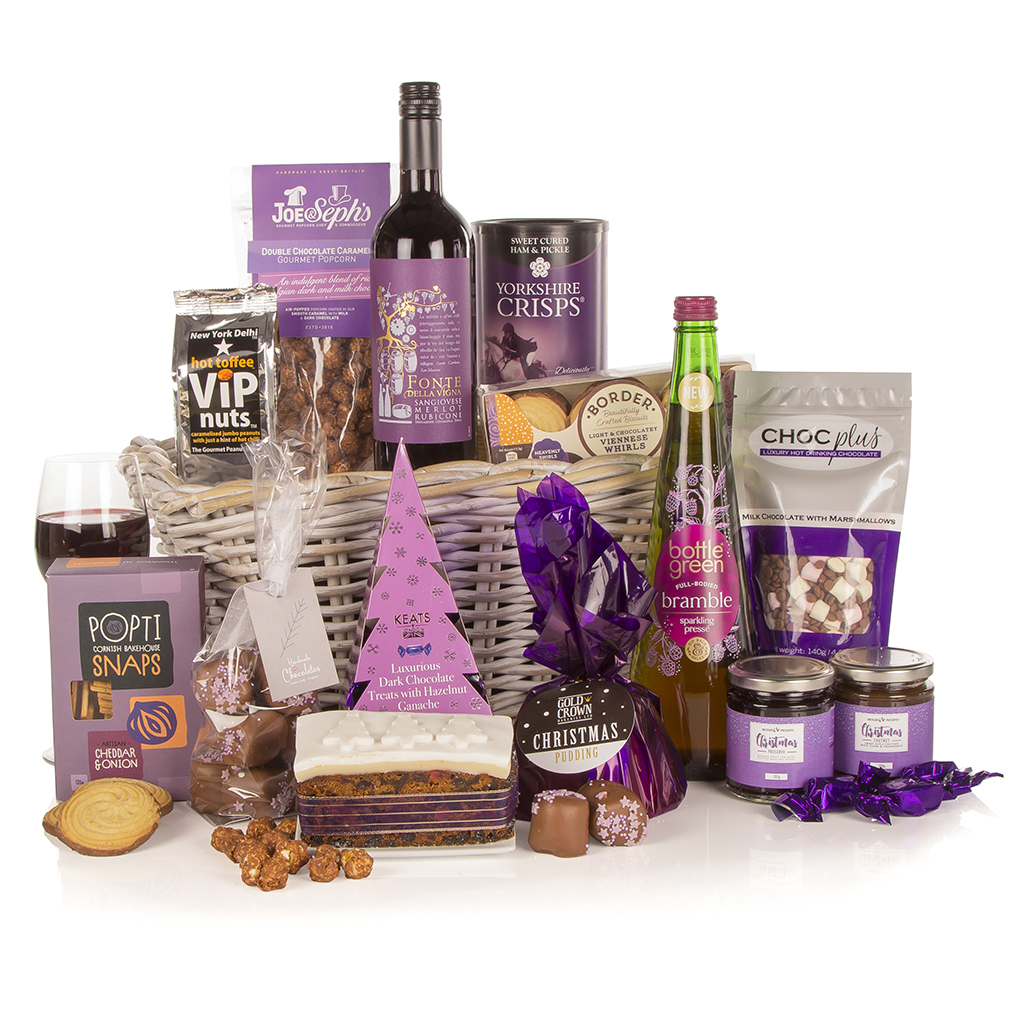 An extremely popular choice as a corporate Christmas hamper, our Silent Night Basket makes a stunning gift for anyone who deserves something really special this festive season. From the Cornish Bakehouse Cheddar and Onion Snaps to the Linden Lady Chocolate Covered Marshmallows and New York Delhi Hot Toffee nuts there's something for everyone.
So whether you'd like to say a generous 'thank you' to clients or colleagues, or surprise a family member or friend, there couldn't be a better Christmas hamper choice.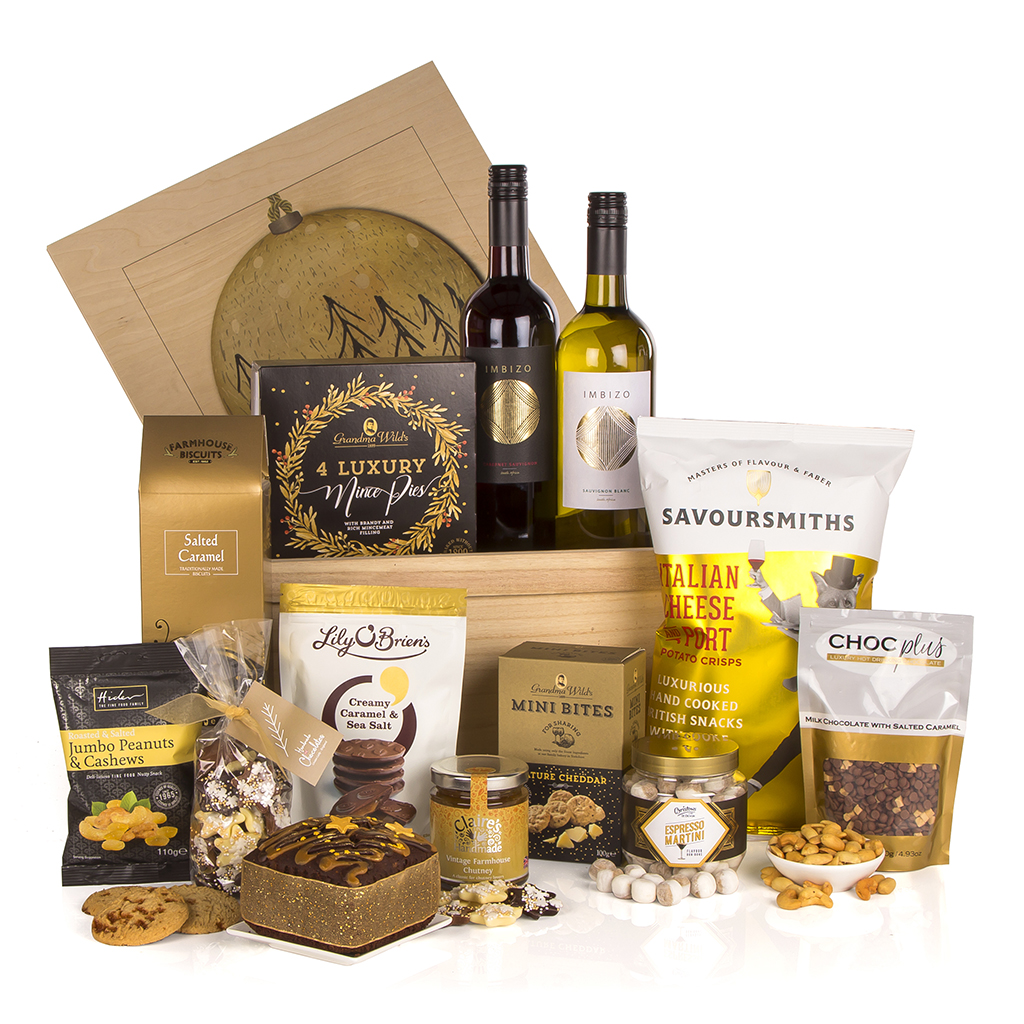 This sparkling collection of the very finest food and drink is an excellent hamper choice at under £100. With something for everybody, this is a great choice for clients or customers this Christmas. They'll be sure to enjoy the bottle of South African Red and White wine over the festive season and the Italian Cheese and Port Crisps milk, white and dark Chocolate Stars are the perfect nibbles to accompany a glass of wine!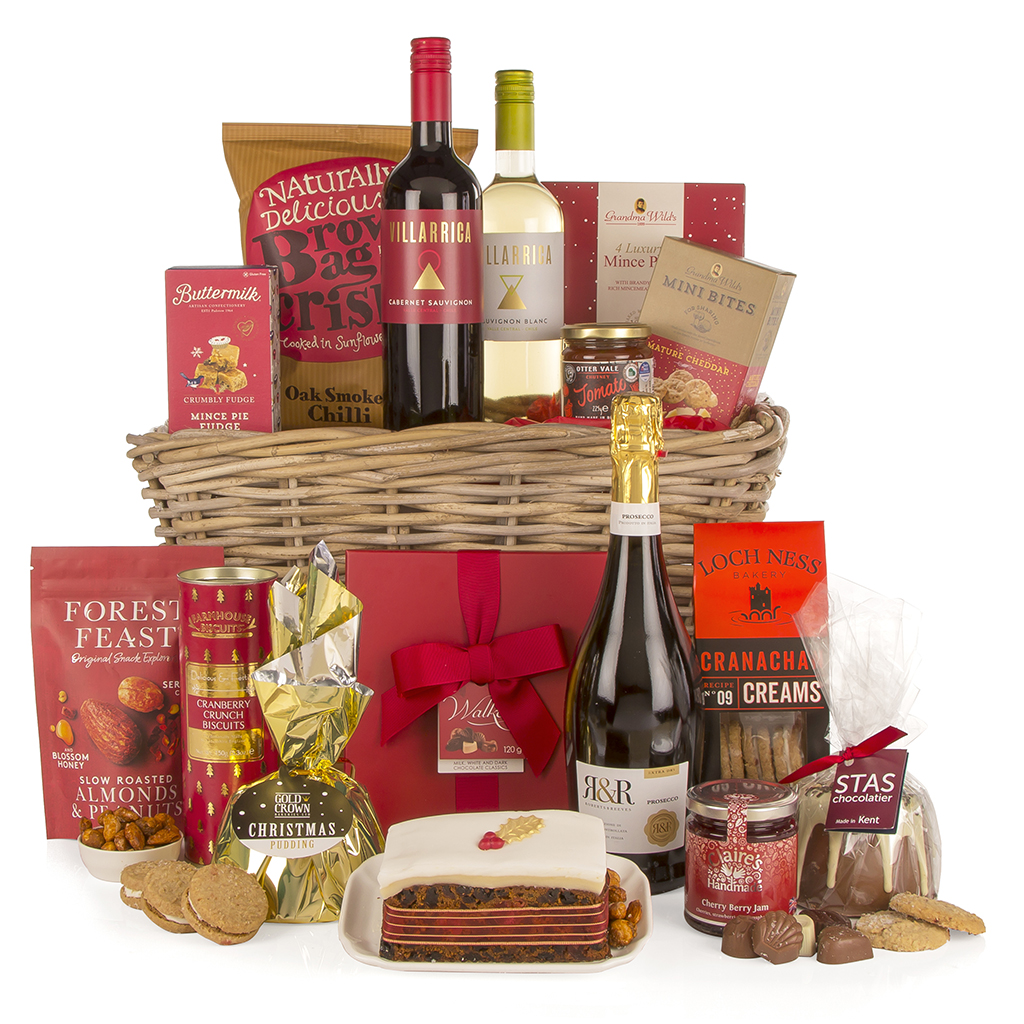 Our stunning Taste of Christmas Basket is exactly that - a hamper filled to the brim with everyone's favourite festive flavours, from indulgent snacks and treats to bottles of red wine, white wine and Prosecco to enjoy them with! The perfect corporate Christmas hamper choice, or an unforgettable gift for family or friends, your lucky recipient really will feel like they've received Christmas in a gorgeous kubu basket.